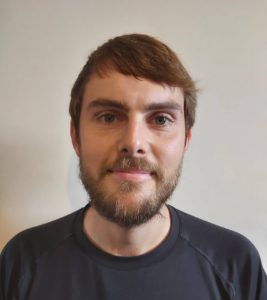 James Lockwood started in September as our new Research Impact and Engagement Manager based in Jisc. We asked him a few questions about himself and what he's looking forward to about the role.
What were you involved in before you started your new role?
I lived in Ireland and worked as the impact and research lead for a small educational technology non-profit. My role was to help the rest of the team in areas around monitoring and evaluation of their projects as well as working organisationally to develop processes around tracking our impact in specific and broad ways. Prior to that I researched in the area of Computer Science Education.
What attracted you to the role?
Whilst I had worked in the general area of impact and had been involved in research before, joining those two together and focussing on it was really interesting to me. Being able to support and highlight the impactful research being done across the county sounded like very varied work and being able to highlight that work sounded like a really positive team to be a part of. I love learning and so a new area with the chance to engage with people doing interesting work across so many fields was also very appealing.
How has it gone so far?
Whilst I'm still getting my head around much of the role, I'm enjoying it so far! The team both at Jisc and the UK Data Service have been helpful and welcoming and it's been great to see all of the great work the Service is involved with, which is something I wouldn't have been aware of before. I'm looking forward to taking more things on moving forward, and for a few ideas and projects we have in the pipeline for the next 6 months or so!
What are you excited about getting involved with?
From what I've seen so far, I'm looking forward to interacting with researchers across the academic world, voluntary and charity sectors, and other areas to showcase the great work they're doing. This will happen on a regular basis through people writing for the Data Impact Blog or developing case studies, but also in more specific ways such as the Data Impact Fellows. The application for the next cohort will be open early next year (keep an eye out for it!) and I'm looking forward to working with them over the year.
Why do you think impact is an important area to focus on?
I think the whole area of impact is an interesting one, and one that is quite hard to define and measure. Whilst hitting KPIs or achieving desired outcomes for projects is important, if work people are doing (and funding!) is making some sort of positive change or difference in society, at any level, then I think that is as worth highlighting and celebrating. If that isn't happening then it's worth looking at why it might not be and seeking to find better ways of disseminating research, of getting the findings into the hands of the people who can make real change happen.