Paula Devine, Ann Marie Gray and Goretti Horgan investigate what the 2016 Northern Ireland Life and Times Survey tell us about attitudes towards abortion in Northern Ireland.
Data from the 2016 Northern Ireland Life and Times (NILT) Survey suggest that there is strong public support for a change in abortion law (Gray, 2017).
Northern Ireland has some of the most restrictive abortion legislation in the world.  Given that The Abortion Act does not apply in Northern Ireland: the relevant legislation is the 1861 Offences Against the Person Act.  Abortion in Northern Ireland is only permitted if a woman's life is at risk or there is risk to her mental or physical health that is long term or permanent.  It is not legal to perform an abortion in cases of foetal abnormalities (even if fatal), rape and incest.
Historically, Northern Ireland was perceived as being less conservative than the Republic of Ireland.  However, in a referendum in May 2018, the Irish public voted to reform its abortion legislation.  This has renewed calls to review the law in Northern Ireland, although this is hindered by the current suspension of the Northern Ireland Executive.  Thus, public attitudes surveys such as NILT provide a vital role in providing independent and statistically robust indications of how the public think about key issues.
NILT is an annual cross-sectional survey which first ran in 1998. It builds upon the Northern Ireland Social Attitudes (NISA) Survey, which ran from 1989 to 1996.  NILT's aim is to provide a record of public opinion which can feed into public and policy debate.  The NILT team recognise the importance of cross-national comparisons, and so, where possible, NILT collaborates with other surveys, such as British Social Attitudes or the International Social Survey Programme (ISSP).
Each year, a representative sample of 1,200 adults aged 18 years or over living across the region take part in NILT.  The survey comprises a face-to-face interview followed by a short self-completion section.  The questionnaire focuses on four or five key social policy issues, and the range of topics each year reflects current debates.
The questions on abortion in 2016 were specifically designed as one part of a larger ESRC-funded study (Buying abortion through the internet: exploring the social harm of criminalising abortion in Northern Ireland and the UK) at Ulster University.  Whilst NILT, and NISA before it, had previously included a small number of questions on abortion, these tended to be within the Religious Observance module, and so the context was religiosity or morality.  In 2016, the questions focused on the legislative framework.
The NILT data recorded the level of support for the legalisation of abortion in seven given scenarios.
The majority of NILT respondents believes that abortion should be legal where the life or health of the pregnant woman is at risk, where there is a fatal or serious foetal abnormality (81% and 75% respectively), and in cases of rape or incest (78%).  Based on a further set of questions, public opinion was less supportive of abortion being allowed due to the loss of a job (27%) or not being able to afford another child (32%).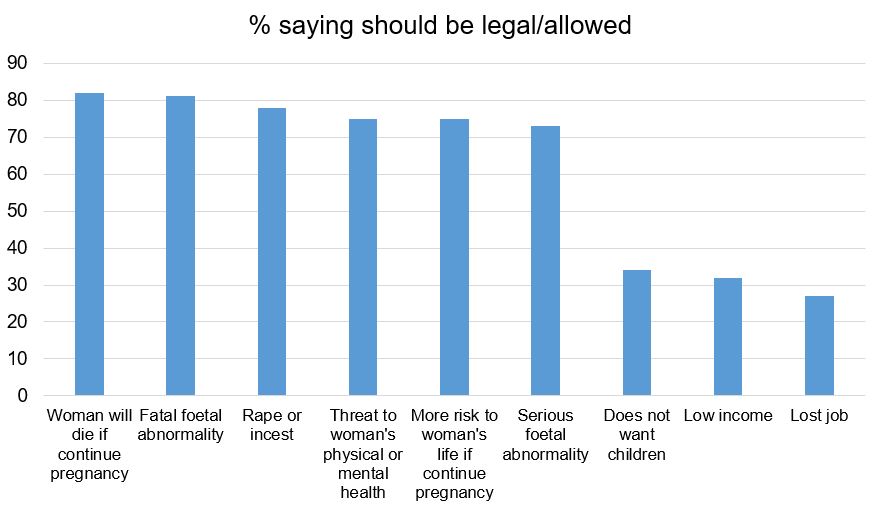 The comprehensive classification section in NILT allowed us to explore attitudes by a range of demographic and socio-economic characteristics.
For example, our analysis by political party affiliation showed that supporters of the Alliance Party of Northern Ireland were the most likely to support legalisation of abortion, followed by Ulster Unionist Party (UUP) supporters.  The views of the supporters of the two nationalist parties – Social Democratic and Labour Party (SDLP) and Sinn Féin (SF) ‑ were quite similar, and these respondents were least likely to say that abortion should definitely be legal in the seven given scenarios.  The explicit stance of the Democratic Unionist Party (DUP) is that it will not support any change in the law in Northern Ireland.  Nevertheless, DUP supporters taking part in the 2016 NILT survey believe abortion should be definitely or probably be legal in six out of the seven scenarios.  This represents a higher level of support for reform of abortion law than SF or SDLP voters.
Whilst the legislative context to abortion in Northern Ireland sets it apart from other regions, the issue of decriminalisation of abortion applies across all of the United Kingdom.
Thus, except in specific circumstances, abortion is a statutory crime in England, Wales and Northern Ireland, and a common law crime in Scotland.  Debates in the House of Commons are currently focusing on repealing sections 58 and 59 of the Offences Against the Person Act 1861; in other words, to decriminalise abortion before 24 weeks.  NILT data suggest strong support for decriminalisation.  For example, 71% of respondents feel that abortion should be a matter for medical regulation and not criminal law, and a similar proportion agree that a woman should never go to prison for having an abortion.
Overall, then, the NILT data provide an important record of what the public thinks, and provide vital evidence for policy and legislative debates.   And by asking these questions in future years, we can highlight if, and how, attitudes change over time.
The Northern Ireland Life and Times Survey is deposited with the UK Data Service.
---

Paula Devine is Co-Director of ARK, and is based in Queen's University Belfast.  She is coordinator of the Northern Ireland Life and Times Survey, and has 20 years experience of public attitudes research.  Her research interests include social gerontology, public attitudes, men's health and the dissemination of social science information.

Ann Marie Gray is Co-Director of ARK, and is based in Ulster University.  Her research interests include devolution and social policy, gender and social policy social care policy. Recent publications include co-authored books on governance and the delivery of welfare, transformations in social care and articles on Brexit and Devolution.

Goretti Horgan is Policy Director of ARK, and is based in Ulster University.  She researches and writes about child and family poverty, as well as children's and women's rights generally.  She is Principal Investigator of the ESRC-funded study 'Buying abortion through the internet: exploring the social harm of criminalising abortion in Northern Ireland and the UK'.
The Northern Ireland Life and Times Survey is carried out by ARK.
ARK is a joint Ulster University/Queen's University initiative, which aims to promote evidence-based policy making and to help researchers, policy-makers and the wider public understand society and politics   For more information, visit www.ark.ac.uk