The UK Data Service is pleased to announce that Dave Rawnsley has been appointed as the new Senior Technical Co-ordinator for the aggregate census and international macrodata team. 
Dave has been working for the UK Data Service and its predecessors in this field since 1997 and brings with him a vast amount of experience of software development; data and metadata processing; user support and training; and liaison with census and international data agencies.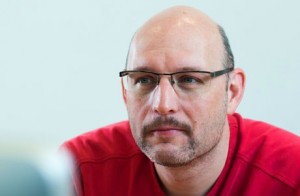 Reflecting on his appointment, Dave said:
"It's great to be working with such a keen team and to be looking forward to developing the next generation of applications to meet the needs of the 2021 and 2022 Censuses, and large scale international data."
In his previous roles, Dave has redeveloped Casweb for the 2001 and 1971 Census, designed the front end for GeoConvert and created the infrastructure to support applications such as Pop24/7, UKDS.Stat and InFuse.
More recently Dave has been working on delivering training workshops on Census and International Macrodata and making the applications and websites created by the UK Data Service team at Jisc more accessible.
When not doing data-related jobs Dave enjoys coaching an U11s rugby team and is a Beaver Scout Leader. Dave will also talk endlessly about his love of Barnsley FC, especially if they get back into the Premier League again.