Deirdre Appel from Open Data Watch explores the data value chain tool and how it can support the impact of data.
Never before have data been produced at such immense volumes. It's clear that the push to produce more data to monitor and inform international development efforts has had a positive impact.
Though there have been documented success stories, overall, the use of data for decision-making and impact bears room for improvement.
After focusing on the production-side for so long, the steps needed to achieve use and impact have been overlooked. The steps involved in collecting and publishing data only cover half of the journey from production to use. The challenge now is putting a concerted effort into making sure that data reach the hands of those who need it most.
Only then can data have an impact on improving lives.
To better understand how to get from production to use, alongside our partner Data2X, Open Data Watch created the data value chain.
While originally intended as a framework for the impacts of gender data, this tool serves as a guide for discussions around the value of data more broadly.
The report provides an explanation of the data value chain as well as examples to illustrate each stage.
As the visualization below shows, the data value chain organises the processes involved in production and use into twelve steps, divided evenly into four major stages. The stages and steps are as follows:
collection stage (identify, collect, and process),
publication stage (analyze, release, and disseminate),
uptake stage (connect, incentivize, and influence),
impact stage (use, change, reuse).
Data are of value at every stage of the process and recognizing the importance of each stage increases the likelihood of use and impact later down the chain.
These 12 steps help us produce, use, and share data to enable policy-makers to make informed decisions.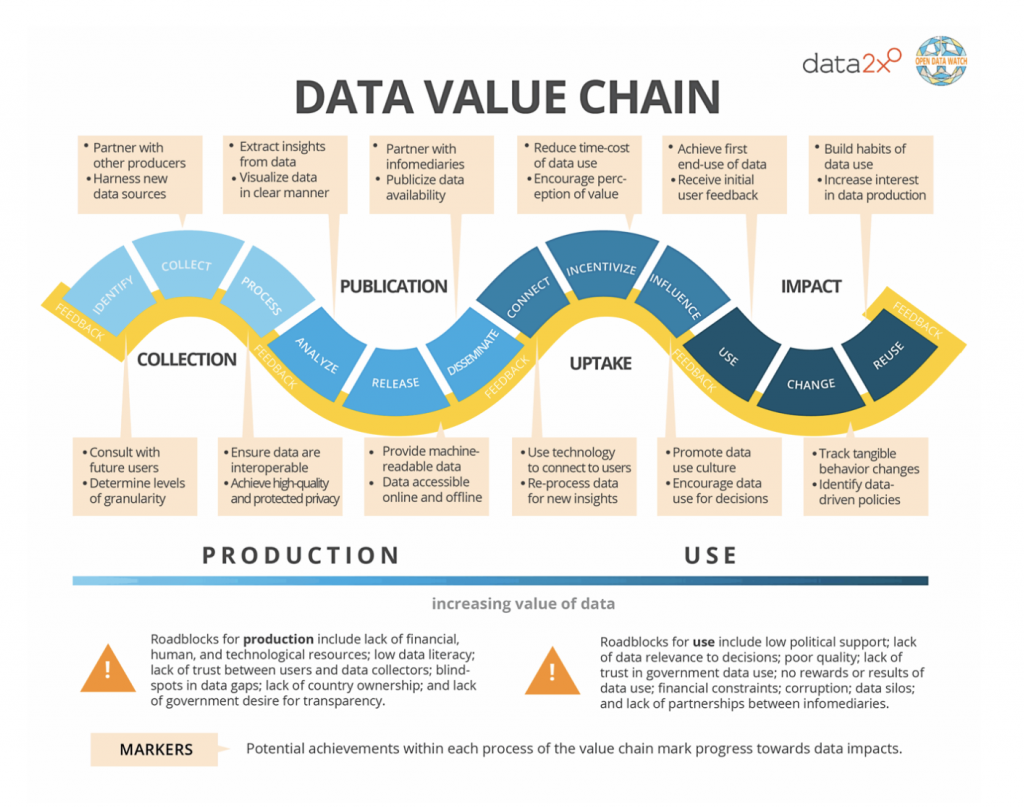 Click on the image for a larger version.
Not only does the data value chain refine thinking around what impact means, but it also helps reveal neglected steps that might be keeping some data from achieving impact.
Did consulting with future users of the data at the onset of collect improve use?
Were data published online and offline to reach intended audiences?
Were data literacy skills promoted within governmental organisations?
Answering such questions can promote a stronger culture of data uptake, use and impact.
As stakeholders within the data for development ecosystems are learning not to over-emphasize the production-side, there is also a focus on increasing use and achieving impact in a way that creates a more holistic approach.
Success at each step of the data value chain should be recognized, as each one is crucial to increase data use and encourage impact further on. The data value chain outlines the actions necessary at each step to ensure data are used and do not instead sit forgotten in data graveyards.
What kinds of action is your organisation to encourage use and impact of data?
---
About the author
As Program Manager of Open Data Watch – an international, non-profit working to bring change to organisations that produce and manage official statistical data – Deirdre is responsible for the planning and coordination of all work program activities and communication. She works closely with Data2X on gender data, maintains partnerships, and supports policy and advisory lines of business. Deirdre holds a Master of Global Policy Studies with a specialization in International Development from the LBJ School of Public Affairs at the University of Texas at Austin.