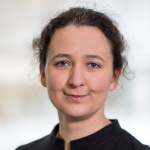 In the second part of our mini-series, Dr. Ksenia Podoynitsyna explores how the Jheronimus Academy of Data Science (JADS) translates data science into business and societal impact.
JADS' master's program, Data Science and Entrepreneurship, is evaluated as the best among data science and AI programs in the Netherlands in the most authoritative national student survey (2022).
It is designed and run by the faculty of two complementary universities: Eindhoven University of Technology and Tilburg University. The two universities share top positions with American and British universities in technology and social sciences rankings respectively. The graduates are awarded joint diplomas.
We call that the best of two worlds, but how do these worlds and their respective disciplines tie together?
The logic behind interdisciplinarity
Interdisciplinary research, projects, and programs are hot. Yet interdisciplinarity is not the goal, it is a means. The interface between disciplines should be meaningful. We ensure that the different disciplines are connected not only across the courses but also within the courses.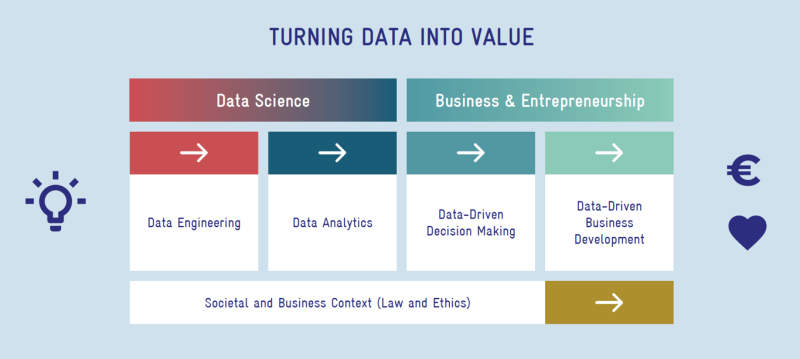 JADS master program combines not two but five disciplines:
Data engineering – designing systems handling the data infrastructure.
Data analytics – data science and AI models we run on the data.
Since all models inevitably provide an output, interpreting, explaining, and interacting with this output is critical; hence data-driven decision making is needed.
Data-driven business development – translating the models into business impact, supported by
Law and ethics that the first four disciplines need to align with.
All these disciplines are needed to turn data into business and societal value. In other words, it's not only about building a novel data science solution but also about understanding how it fits into the overarching business processes of the company. This understanding dramatically influences the problem definition.
A successful student-entrepreneur should not be a failed student
The program features the Data Entrepreneurship in Action course that triggers and supervises students in ideation and doing a validation study for their data-driven venture (idea).
If such a venture is successful, it can draw away a lot of students' attention, thereby disrupting their progress in the program. To help alleviate this risk, the student-entrepreneurs @ JADS are now embedded in the JADS Playground incubator and get additional supervision.
Another measure we introduced is to allow the students to do their thesis projects based on their venture. Counterintuitively, the experience taught us that this requires even more discipline from the students: psychological attachment plays an important (and negative) role here.
In a project that focuses on conducting a marketing experiment to deduce the optimal strategy to approach potential clients, I had this conversation with a student-entrepreneur:
"What if something goes wrong, those are my clients!"

"Yes, but you're not designing an online experimentation to test out a bad option against the good option, you are setting it up to compare a good option to another good option – you just don't know which one is better and need to make a choice anyway."
Some other vivid examples of comments I have had from student-entrepreneurs are:
"Our venture has developed such an innovative data engineering solution for communicating with leads and clients, and nobody else has it! So, there's little I can put into the literature background"

"But there's a vast literature on this, albeit less innovative approaches!"
"I need to separate my study, venture, and personal life. While the knowledge I gained in different courses in the program is immediately useful for developing my venture, I notice that I get stressed if a course gets too close to my actual venture."
Consequently, we mention this option to students but explain that doing their thesis project based on their venture is quite tricky. In fact, we mildly advise against this and help design projects done in a different context while still being indirectly useful for the student's venture.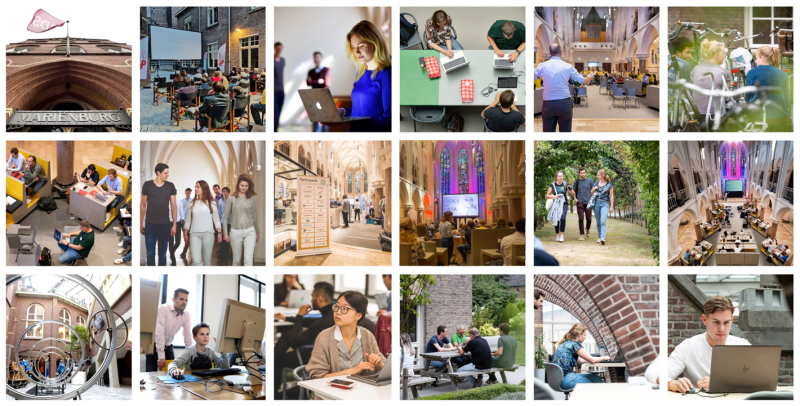 Nothing more practical than a good theory
We teach the state-of-arts scientific developments within data science, as well as business and entrepreneurship, yet we select them to have practical value. The same holds for the master thesis project that takes a whole semester: it needs to deliver a scientific contribution and have a business or societal impact, which are being explicitly assessed.
This practical value is further strengthened by In Action courses in which external organizations provide assignments. This blog post elaborates on how the In Action series of courses operates.
Scaling up In Action
Organizations such as WWF, Deloitte, Floryn, ParkNow, Unilever, and many others participated in the past five years. The challenges the students worked on included both for-profit and non-profit cases.
Over these years, we learned how important it is for students to choose the data challenge and the related organization they would like to work on and balance the difficulty level of these projects.
Meanwhile, we scaled up the real-life data science assignments in the program. Depending on the electives chosen, students can do up to 66 ECTS of courses that actively engage external organizations as the basis for the assignment.
This translates to more than a year of challenge-based learning in a scientific program:  unique in the Netherlands and Europe!
(ECTS stands for European Credit Transfer System. ECTS makes it easier for universities in Europe to understand and compare courses studied and results achieved across different institutions.)
Becoming Data Science in Business & Entrepreneurship
Since the curriculum evolved beyond classical entrepreneurship and covered business development from the corporate and consultant perspectives, we decided to reflect this in the revised name of the master's program.
We will change the name to Data Science in Business and Entrepreneurship as of September 1, 2022.
For the techies among us, that would be Data Science in (Business & Entrepreneurship). 
---
About the author
Dr. Ksenia Podoynitsyna is an Associate Professor of Data-Driven Entrepreneurship at JADS, the Joint Data Science Institute of Tilburg University and the Eindhoven University of Technology. She also serves as the Program Director for the master "Data Science and Entrepreneurship" and is the Data Entrepreneurship research unit head at JADS.
Her research focuses on the ways data allows to create and capture value through innovative business models, ecosystems, and platforms, and on risk and uncertainty management in new organizations. Ksenia is keen on doing research with clear business and societal implications, such as in Ph.D. projects funded by the EU, EIT KIC InnoEnergy, Philips, CZ, and KPN. Furthermore, she has published in the leading entrepreneurship and management journals, including Strategic Management Journal, Journal of Business Venturing, Entrepreneurship Theory and Practice, Journal of Product Innovation Management, and California Management Review. Ksenia got her Ph.D. from Eindhoven University of Technology (2008), and her dissertation was nominated for the prestigious Heizer dissertation award of the Academy of Management.