The past couple of weeks have seen some significant releases of Census 2021 data. The UK Data Service Census team have been hard at work to get the data available on our bulk download platform as quickly as possible so that this new data can be accessed by researchers.
With 10 years between each census, it is hard for many to keep track of often small but significant changes that take place in the questions and structure of the census questionnaire. On the Data Impact blog we have previously discussed the changes and continuities in the Census as well as the future of the census.
In the past couple of weeks there have been two separate releases of Census 2021 data which represent some important "firsts" for the census. Whilst much has been written and discussed about the releases, we wanted to highlight these and a new visualisation tool developed by the Office of National Statistics.
New statistics
The new statistics available represent wider changes in the law, society and government policy in the last 10 years. One reflects the changes in legal definitions of marriage and civil partnerships, the other an increased effort to track and support armed force veterans.
Marriage and civil partnerships
The release on November 2nd was related to demography and migration. Whilst there were many standout statistics from this, one set that was available for the first time related to same-sex marriage and opposite-sex civil partnerships. With same-sex marriage legalised in 2014 and opposite-sex civil partnerships legalised in 2019, the questions related to these areas were updated and added to reflect this change.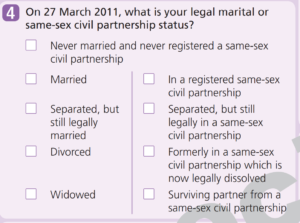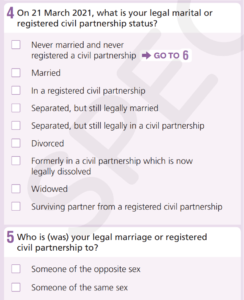 Of the 21.6 million people who were married, 99.4% were in opposite-sex couples, and 0.6% (134,000) were in same-sex couples. 103,000 people reported being in civil partnerships, 65% in same-sex couples and 35% in opposite-sex couples.
You can see a summary of some of the highlight points in the Office of National Statistics (ONS) statistical bulletin.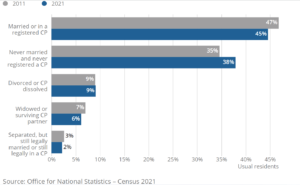 There will be a further release of data on sexuality and gender in early 2023, provisionally the 6th January.
UK armed force veterans
It was also fitting that in the week of Armistice day, the first ever England and Wales census data on UK Armed Force veterans was released on Thursday 10th November. The addition of questions on people's veteran status was approved in 2018 as part of a wider strategy to improve support for veterans.
In total there were 1,853,112 people who had previously served, which is 3.8% of the over 16 population. Of the almost 1.75 million households that included one or more veterans, 3.9% contained two with 2000 households including 3 or more veterans.
In Wales 4.5% of the population had previously served, with the highest percentages in England being the South West (5.6%) and North East (5%). The lowest proportion was in London, with 1.4%.
Further releases and analysis of the UK Armed Force veterans data from ONS will be available throughout 2023, with plans to provide a broad overview, where veterans live and an analysis of health and well-being.
Interactive maps
Alongside some new statistics, the ONS has also released a new visualisation tool. Data from both the demography and migration releases, veterans release and future releases are all added into these interactive maps. They allow you to explore the census data across England and Wales and also down to local neighbourhood level. Future releases will also be added to the maps.
The UK Data Service impact team are based in the Jisc office in Manchester, as are many of the census aggregate data team who have made these recent releases available for bulk download.
We thought it would be interesting to look at a few characteristics currently available of the area we work!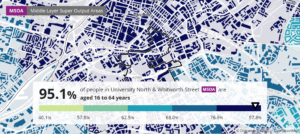 Going as low as the Middle Layer Super Output Area, the Jisc office is based in the University North & Whitworth Street area.
1% of the residents were aged between 16 – 64, which as an urban and working, shopping and university district isn't too surprising! 22 years was the median age, which is considerably lower than the UK median of 40.4 years.
5% of households in the area are one-person households, which is higher than across England and Wales where 30.2% of households were one person.
1% had lived in the UK for less than 2 years, with 62.5% being born in the UK.
The population density was 12,422 people per square kilometre.
Returning to the new questions on marriage, only 6.7% of residents were married or in a registered civil partnership, well below the 44.6% across England and Wales.
You can learn more about the interactive maps and how to use them in this ONS blog post.
---
About the Author
James Lockwood is Research Impact and Engagement Manager at the UK Data Service.
You can find more about the UK Data Service training and events on our website.